DTRE – Series Fully Automatic Clutch Carbon Brush Electric Screwdriver
Login
to view price!
The first full-button control for both forward and reverse rotations, with the highest operating efficiency and convenient use
The patented brake switch has high resistance on impulsive vibration that will increase the switch life
Uses High-Power Rare-Earth Magnet Motor which has smaller size, provides higher torque output and is safe due to double insulation
The buffer device cooperates with the new clutch to reduce the impact force, improve the torque accuracy, and increase the service life
Light weight and slim design assure long and fatigue-free working
The external carbon brush is easy to replace, easy to maintain, and does not require a professional to repair
Built-in torque adjustment with anti-locking ring design can directly set the output torque, avoiding the accidental change of the torque by the on-site operator
* There is an option to choose between lever or switch for DTF series model for its reverse function operation mode. Customers can choose the operation depending on their requirement.
*DTRE Series is compatible with AT base to fulfil automation needs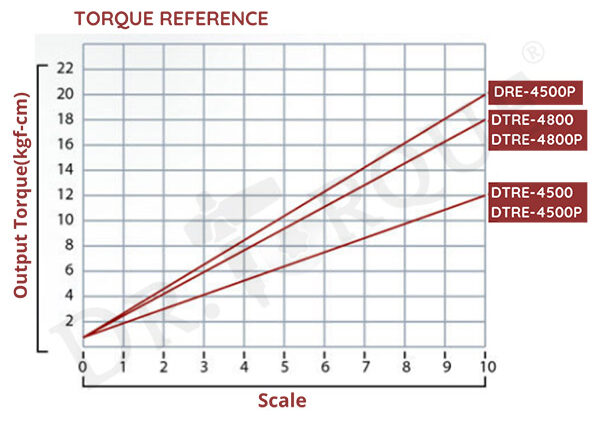 ESD – Safe Electric Screwdriver
Contents
Electric Screwdriver x 1
Made in Taiwan
Technical Details
MODEL
DTRE-4500
DTRE-4800
DTRE-5000
DTRE-4500P
DTRE-4800P
FREE SPEED (rpm)
1000
660
900
1000
660
OUTPUT TORQUE RANGE
N.m
0.08~1.2
0.008~1.8
0.08~2.0
0.08~1.0
0.08~1.6
Ibf.in
0.7~10.4
0.7~15.6
0.7~17.4
0.7~8.7
.7~13.9
kgf.cm
0.8~12.0
0.8~18.0
0.8~20.0
0.8~10.0
0.8~16.0
START 
LEVER START
PUSH START
CONTROLLER
A/B/C/D/E/F/G/H
C/F
ESD
YES