DTRE – Series Fully Automatic Clutch Carbon Brush Electric Screwdriver
Login
to view price!
This screwdriver is ideal for use on various product production lines. Both revolutions in forward and reverse are controlled by the first full button. In addition to increasing torque precision and service life, the buffer shock absorption device prevents vibration-induced damage to components. It is lightweight, small, and simple to use as well as replace thanks to those features.
Due to its smaller size and increased torque output, the High-Power Rare-Earth Magnet Motor used in this screwdriver is safe thanks to double insulation. Built-in torque adjustment and an anti-locking ring prevent the on-site operator from unintentionally changing the torque by allowing the output torque to be adjusted directly.
* There is an option to choose between lever or switch for DTF series model for its reverse function operation mode. Customers can choose the operation depending on their requirement.
*DTRE Series is compatible with AT base to fulfil automation needs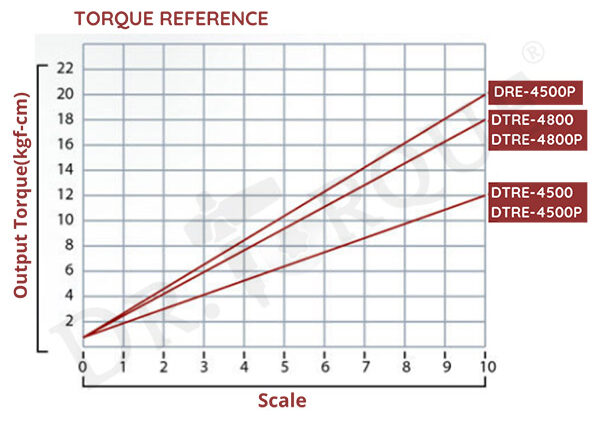 ESD – Safe Electric Screwdriver
Contents
Electric Screwdriver x 1
Made in Taiwan
Technical Details
MODEL
DTRE-4500
DTRE-4800
DTRE-5000
DTRE-4500P
DTRE-4800P
FREE SPEED (rpm)
1000
660
900
1000
660
OUTPUT TORQUE RANGE
N.m
0.08~1.2
0.008~1.8
0.08~2.0
0.08~1.0
0.08~1.6
Ibf.in
0.7~10.4
0.7~15.6
0.7~17.4
0.7~8.7
.7~13.9
kgf.cm
0.8~12.0
0.8~18.0
0.8~20.0
0.8~10.0
0.8~16.0
START 
LEVER START
PUSH START
CONTROLLER
A/B/C/D/E/F/G/H
C/F
ESD
YES