Overview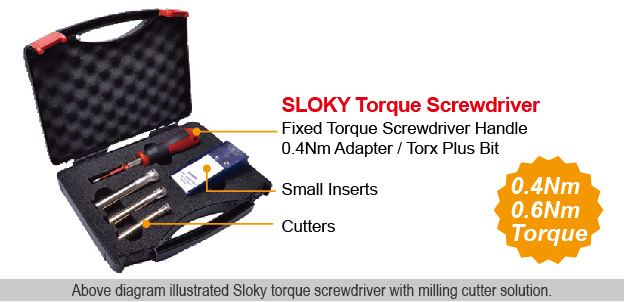 Sloky, the smallest torque screwdriver in the world, is a predictable, replaceable and organized tool. It is considering to be used in industrial field having a greatest advantage of "no-over tighten". The most important benefit is it prevents the damages of the screw and tool.
In the cutting tool era, some of the inserts are very small and expensive. For best clamping accuracy and positioning it is recommended to use torque screwdriver to protect the small insert and screw. In addition, it also can keep the insert with longer tool life and saving costs too.
Sloky torque screwdriver is made by three parts, bit, adapter and handle. Bits are color recognized, different color is defined with different driver size. Bits are available with TORX®, TORX PLUS® and HEXAGON shapes, length 25mm, 50mm and 75mm.
Adapter is the major part of Sloky torque screwdriver, the torque's value is setting on the adapter, when the demand torque is reached, and there is a "click" sound to let user knows the screw is tight up. It has a reversible system to use the same screwdriver for tightening and loosening the screw.
The outstanding design of Sloky handle is comfortable to hold and very flexible, it can fit perfectly into user's hand and prevents the hand injuries such as blisters and calluses. There are three types of handle to fulfill various demands.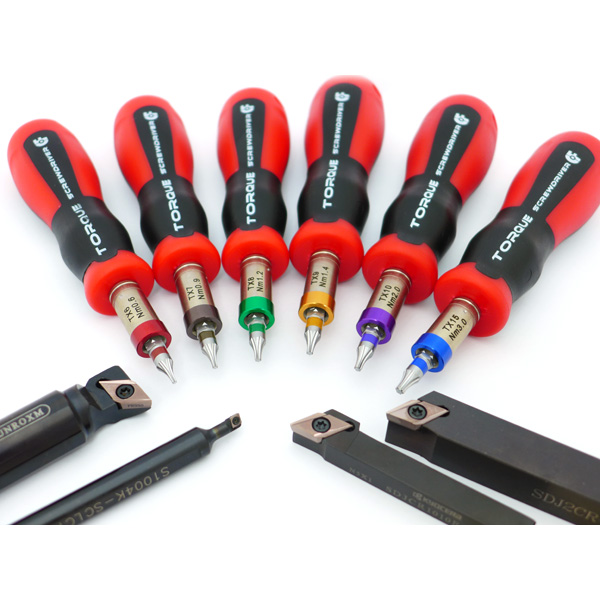 Files Download