DTF – Series Automatic Clutch Carbon Brush Electric Screwdriver
Login
to view price!
This screwdriver's primary purpose is to increase manufacturing efficiency; hence it is lightweight and small, both of which make it simple to operate. Electric screwdrivers with carbon brushes that have an automated clutch may operate for extended periods of time without experiencing voltage fluctuations and with good efficiency. The brake switch is protected by a patent because it has a high resistance to impulsive vibration, which lengthens the switch's life.
Due to the presence of a high-power rare-earth magnet motor, it is able to deliver more torque while also increasing torque precision. The external carbon brush is simple to maintain, replace, and may be fixed by anybody without special skills. An anti-locking ring design and built-in torque adjustment prevent the on-site operator from unintentionally changing the torque by allowing the output torque to be adjusted directly.
*There is an option to choose between lever or switch for DTF series model for its reverse function operation mode. Customers can choose the operation depending on their requirement.
*The DTF series is compatible with AT base to fulfil automation needs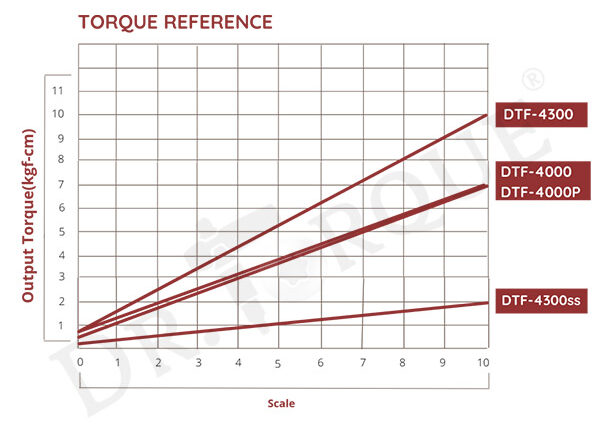 ESD – Safe Electric Screwdriver
Contents
Electric Screwdriver x 1
Made in Taiwan
Technical Details
MODEL
DTF-4300SS
DTF-4000
DTF-4300
DTF-4000P
FREE SPEED (rpm)
660
1000
660
1000
OUTPUT TORQUE RANGE
N.m
0.02~0.3
0.05~0.7
0.08~1.0
0.08~0.7
Ibf.in
0.17~2.6
0.43~6.1
0.7~8.7
0.7~6.1
kgf.cm
0.2~3.0
0.5~7.0
0.8~10.0
0.8~7.0
START 
LEVER START
PUSH START
CONTROLLER
A/B/C/D/H/I
C/F
ESD
ESD