Pro Station torque screwdriver set for TX/IP/HX
Most popular Torque screwdriver Pro Station set with 3 types of handles and 22pcs of 50mm bits (TX/IP/HX)
Pro Station set Sloky torque screwdriver with bits of Hex, Torx and Torx Plus for different Nm torque adapters.
User friendly for CNC cutting tool of machining, turning and milling.
Pro Station, 3 handle, 8 adapter and 22 bits
Handle: H01-B, H02-B, H03-B-Adapter: 0.6Nm, 0.9Nm, 1.2Nm, 1.4Nm, 2.0Nm, 3.0Nm, 5.0Nm, 5.5Nm-Bits: T6, T7, T8, T9, T10, T15, T20, T25 50mm,6IP, 7IP, 8IP, 9IP, 10IP, 15IP, 20IP, 25IP 50mm,H1.5, H2.0, H2.5, H3.0, H4.0, H5.0 50mm
Login
to view price!
Pro Station torque screwdriver kit is with universal, straight and T-flying handles, 8 torque adapters (0.6 ~ 6Nm) and 22pcs of 50mm color coded bits (Torx ,Torx Plus and Hex) available. It's a multi set professional play.
Features
Let CLICK Tell You When the Torque is Reached!
Quick release! Simply pull the bit outward to change new bit
Perfect positioning in the bits
A Secure hold, you'll never second-guess, a precision torque tool is only as good as its results
With proper testing equipment and system, we can ensure you never have to question our products accuracy and quality
User friendly for CNC cutting tool of machining, turning and milling
Specification
0-TPK26-PR-22K contains a Universal, Slim-Flit and T flying handles, 8pcs of torque adapters, 22pcs of 50mm Torx/Torx Plus bits/Hex. The sizes are TX6, TX7, TX8, TX9, TX10, TX15, TX20 and TX25 for Torx, and 6IP, 7IP, 8IP, 9IP, 10IP,15IP, 20IP and 25IP for Torx Plus. The corresponding torques are 0.6, 0.9, 1.2, 1.4, 2.0, 3.0, 5.0 and 5.5Nm, which equal to 5.3, 8.0, 10.6, 12.4, 17.7, and 26.6 In-lb. (Torques are the same for both Torx and Torx Plus systems) The T-type Universal Handle is 2 3/4″ X 3/4″ X 1 1/2″ (L X W X H) and the small soft grip HD handle is 4″ in length and 1 1/4″ in diameter. The torque adapters which have the industrial standard preset torque are magnetized and color coded. The high alloy steel bits are also magnetized and color coded with the hardness of 58-60 HRC.
Contents
Stage x 1
Handle x 3
Torque Adapter x 8
50mm Bits x 22
Instructions
Large support areas for thumb and index finger on the ergonomically shaped handles.
The transmission of high torques is thus quite simple.
Cylindrical handle shaft for quick turning of screws.
* This product is only suitable for manual operation. Do not apply with other.
Torque Screwdriver for Pro Station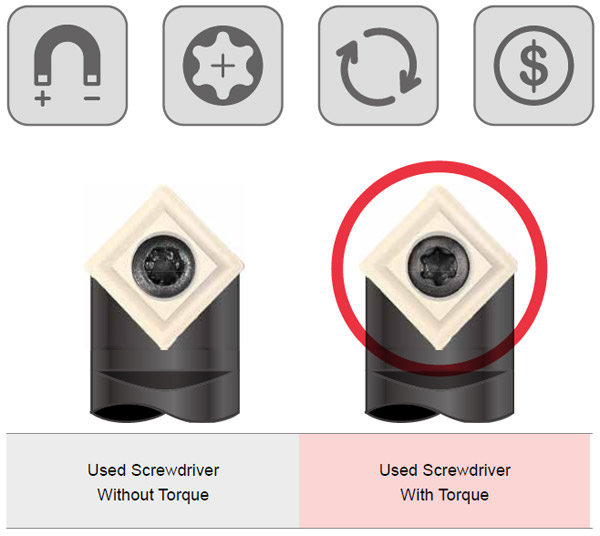 TORX® and TORX PLUS® are registered trademarks of Acument global technologies LLC.
Made in Taiwan
Technical Details
Parts No.
Handle
Adapter
TORX Bits
TORX Plus Bits
Hexagon Bits
0-TPK26-PR-22K
TPK-H02-B
 0.6 Nm
TX6
6IP
H1.5
 0.9 Nm
TX7
7IP
 -
 1.2 Nm
TX8
8IP
H2.0
TPK-H01-B
 1.4 Nm
TX9
9IP
 -
 2.0 Nm
TX10
10IP 
H2.5
 3.0 Nm
TX15
15IP 
H3.0 
TPK-H03-B
 5.0 Nm
TX20
20IP
H4
 5.5 Nm
TX25
25IP
H5
Files Download