DTAC – Series Full Automatic Clutch Carbon Brush Electric Screwdriver
Login
to view price!
Super Low Inertia Effect Design: First of its kind feature, the clutch releases automatically, without any 'backlash', when the preset torque is achieved. This eliminates over tightening by operator and reduces work fatigue.
Usage of the mechanical clutch instead of the conventional electronic brake circuit will help get rid of the sparks, eliminate easy failure of the electronic brake circuit and reduce heat
Unique feature of dual switch mode (push-to start or push-lever start), allowing the operator to customize the tool to the required application to improve work efficiency
Interchangeable 5.0Ø () HB and Hex Bits within the same electric screwdriver, allowing the operator with wide range of operations.
Exclusive use of isolation base design to prevent carbon dust from entering the gearbox that will increase the life of the gear unit.
An anti-impact sleeve is installed around the clutch to prevent the grinding on the clutch cam and affecting the precision of the torque
User friendly design of quick and easy bit change process: To change the bit, pull the collect ring, insert the desired bit, and release the collect ring. The bit will automatically lock into its desired position.
Unlike other electric screwdrivers, the quick and easy bit change process does not allow the screwdriver to self-start, preventing any accident.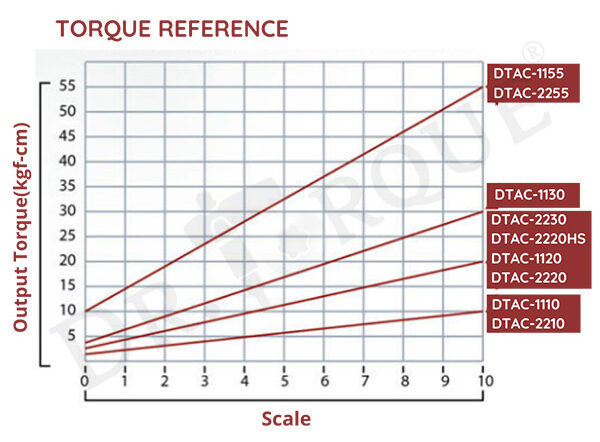 Contents
Electric Screwdriver x 1
Made in Taiwan
Technical Details
MODEL
DTAC-1110
DTAC-2210
DTAC-1120
DTAC-2220
DTAC-1130
DTAC-2230
DTAC-1120HS
DTAC-2220HS
DTAC-1155
DTAC-2255
FREE SPEED (rpm)
1000
1000
1000
1000
1000
1000
1800
1800
400
400
OUTPUT TORQUE RANGE
N.m
0.2~1.0
0.2~1.0
0.3~2.0
0.3~2.0
0.4~3.0
0.4~3.0
0.4~2.0
0.4~2.0
1.0~5.5
1.0~5.5
Ibf.in
1.7~8.7
1.7~8.7
2.6~17.4
2.6~17.4
3.5~26.0
3.5~26.0
3.5~17.4
3.5~17.4
8.7~47.7
8.7~47.7
kgf.cm
2.0~10.0
20~10.0
3.0~20.0
3.0~20.0
4.0~30.0
4.0~30.0
4.0~20.0
4.0~20.0
10.0~55.0
10.0~55.0
START 
PUSH SART / PUSH - LEVER START
VOLTAGE
110V
220V
110V
220V
110V
220V
110V
220V
110V
220V