Overview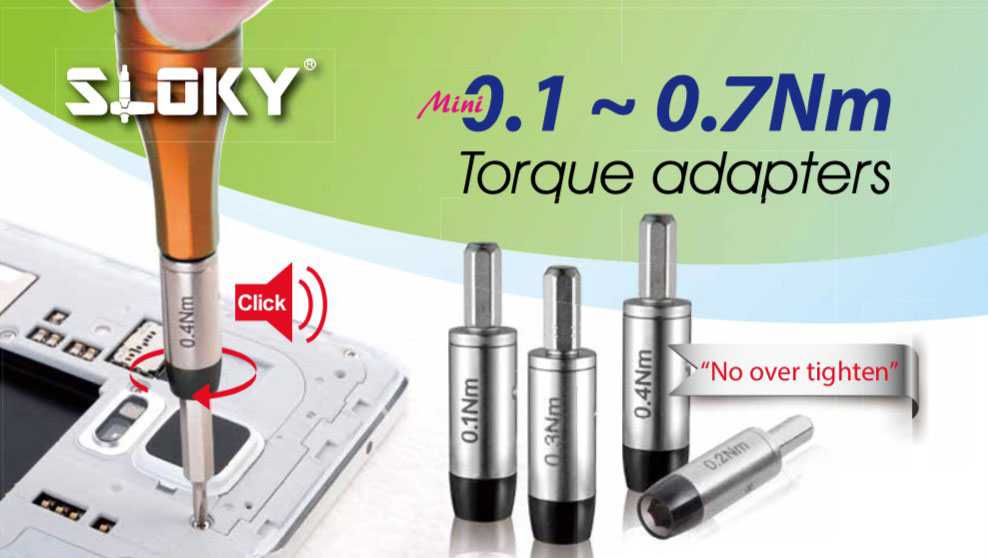 Let's make your own torque precision fastening set
We found precision fastening more and more popular in the markets; therefore, we invented mini adapter from 0.1~0.7Nm for professional players.
Possible application including cell phones, laptops, drown, camera, watches and all kinds of 3C devices. Please contact with us if you want to make your own sets. All we need to know is what kind of screw you need to fasten and we may provide recommendation.
A total solution for applications below:
Communication Devices, Consumer Electronics, Drones, UAV, Printed Circuit Boards, cell Phones, Laptops, Camera, Watches and all kinds of 3C devices
Transform normal screwdriver to torque screwdriver
SLOKY mini torque adapter to fit almost any kind of the 4mm bits and handle with Ø4 mm in the market.
Features
Customized torque from 0.1~0.7Nm
Torque control and safety for " High-Value " products
No- over tighten, when the demand torque is reached, there is a click sound. For continued tightening on the screw, it is no longer to increase the torque on the screw.
It has a reversible system to use the same screwdriver for tightening and loosening the screw.
The limit of loosening torque is larger than the tightening torque to protect both tool and the screw from the breaking or damage.
Files Download