Overview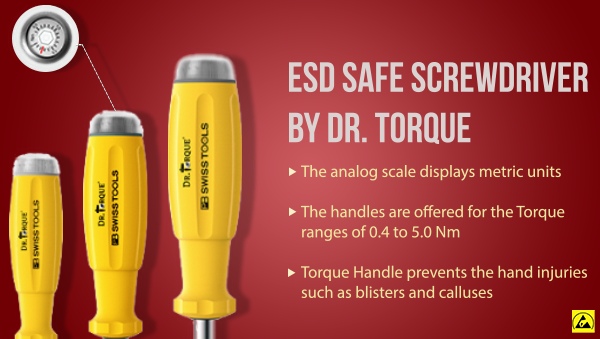 ESD Safe Precision Torque Screwdriver by Dr. Torque
Torque ESD screwdriver is pretty distinct from a standard manual screwdriver. However, both the screwdriver serves the same goal of tightening or loosening screws. The main contrast between them is the source of power that drives the force. In manual screwdrivers, the work on the force is manually applied by the worker. Whereas in electric screwdrivers, the energy is fetched from the electrical source through which it is attached.
Torque ESD screwdrivers are growing increasingly in demand with assembly line operators because of their greater efficiency, productivity, and controllability while concurrently reducing the cost and risk. It also reduces the risk of getting injured. Hence, it is crucial to have an ESD screwdriver set in your toolbox.
A broad spectrum of electric screwdrivers is available in the market to serve various goals. Therefore, it is essential to pick the right ESD hand tools for you. And for choosing the ideal one that satisfies all your needs, you have to learn some basic questions and their explanations.
In this article, we will explain how these devices make our lives more comfortable.
What Is ESD Screwdriver?
The application of extensive integrated circuits identified as ICs implies that electrical devices are becoming smaller in size. Though, ICs glitch or completely crash while unveiling to electrostatic energy fields. It makes these ESD-safe tools essential for such utilization.
ESD tools are the anti-static screwdriver of two types: the anti-static mat and the anti-static wrist strap. The anti-static mat guard's Electronics devices by limiting static electricity from concentrating on devices' hardware or the engineer. The anti-static wrist strap preserves electronics devices while based on a device case.
ESD tools are the abrupt surge of electricity between 2 electrically charged objects produced by an electrical short, contact, or dielectric collapse. An accretion of static electricity can be generated by turbocharging or via electrostatic induction.
The Importance of a Torque Screwdriver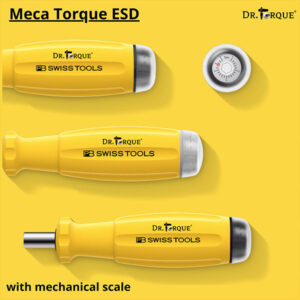 Torque is the measure of the applied rotational force on the fastener. The fasteners will become extremely loose if sufficient force is not applied and can free over time. If the screws are smaller and less potent than other fasteners, raise the risks of damage to the fastener if excessive force is employed. Screws are also usually utilized in applications like connecting plastic housings. Here, softer metals such as aluminum are used. Over-tightening can destroy both the screw and the substrate or parts that they join.
Gashing one of the screw shafts that fasten the brace to a motor block can indicate extracting the entire engine block so the drill can line up to remove it. Striking a screw with the help of a condenser mount when doing commercial refrigeration servicing can indicate waiting long for pieces. Breaking the plastic housing of the hard drive on the production line can draw everything to a stop when it is correctly noted and discarded. That is the reason why a torque screwdriver is essential.
Advantages Of An ESD Torque Screwdriver
CONVENIENT: An electric screwdriver is easy to shape, so it is handy to work with it. Because of their high-speed ability, these devices can operate very fast. In addition, some designs come with valuable accessories like a carry box and a variety of screws that provide enough comfort for work.
LESS LABORIOUS: When using an electric screwdriver, you'll need less effort. When a workpiece needs a large number of screws, these tools are perfect for that task. In addition, electric screwdrivers enable you to perform a wide variety of tasks with a single tool. 
EFFICIENT: These tools enable the insertion of screws perfectly and speedily. Electronic torque drivers have a strong drill capability that gives a lasting impact. 
VERSATILE: Most electric screwdrivers have two things in common, i.e., reverse action and variable speed. Its speed assures greater control and efficiency while operating, and reverse action is a trademark trait that allows for quick insertion and removal of screws. In addition, due to their adjustable speed, electric screwdrivers offer fast work in one go. 
COST-EFFECTIVE: You require a variety of screwdrivers in your toolbox to get the right results. These ESD tool kits contain different-sized screwdrivers. Each is best suited for its job. If you take a multipurpose electric screwdriver, you can relish the advantages of several capabilities integrated into one device. This way, you can work efficiently at a reasonable cost. 
Which Is The Best Torque Screwdriver For manufacturing industries?
PB Swiss Tools MecaTorque ESD screwdrivers are the new generation of Torque Screwdrivers. With the new PB Swiss Tools MecaTorque ESD screwdrivers, you can gently and without damaging the screws in delicate materials like aluminum, carbon, and Plexiglass. Apply the rotary cap on the extremity of the handle to hover the precise release mechanism very precisely and efficiently – and without any extra tools. Recalibrating with an Electronic torque tester allows you to access a critical function to enter torque values quickly. It's is the best electric screwdriver for mobile that gives completes comfort if one is handling the mobile parts. Not only can you utilize it to transmit torque values, but you can also assign other beneficial tool specifications.
Features
PB Swiss Tools MecaTorque ESD manages to assure the safe discharge of electrostatic charge and for work in ESD-protected regions
Safe electrostatic discharge tools
The more oversized two-component handle is available in C6 and E6 accuracy bits or PB 215 interchangeable blades
Precision blades are a component in the small handle that works with PB53
We offer a variety of handles for torque screwdrivers and an electronic torque wrench
Adjustment is easy and possible without any extra tools
The analog range shows metric units.
Simple to tighten and release screws even in the high torque range
The handles are given for the scales of 1.0 to 5.0 Nm
Switzerland tool has a full assortment of specialized ESD screwdriver tools made of conductive materials for maintenance and installation work in ESD-protected areas
The soft zone is very flexible, comfortable to hold and play
Excellent design of PB Swiss handles that fits snugly in hand and prevents hand injuries like calluses and blisters
Ease of use and efficiency due to having a large support surface for thumb and forefinger
World's Best ESD Torque Screwdriver
Files Download