MTA Series Mini Torque Adapter
We invented mini adapter from 0.1~0.7Nm for professional players.
Possible application including cell phones, laptops, drown, camera, watches and all kinds of 3C devices.
Transform normal screwdriver to torque screwdriver
SLOKY mini torque adapter to fit almost any kind of the 4mm bits and handle with Ø4 mm in the market.
Login
to view price!
Features
The torque adapter is functional by the radial direction friction.
It is different from the marketed product nowadays.
When an object slips or is going slip with another object, on the two contact faces will create a relative action. This relative action is called the static friction, it creates the abrasion after use a certain time.
The preset torque of adapter may get low due to this abrasion.
Specification
Material: Carbon Steel
Hardness: HRC 43° ~ 48°
Surface Treatment: Electroless Nickel
Unit conversion: 1 Nm = 10.20kgf-cm
A total solution for applications below:
• Communication Devices
• Consumer Electronics
• Drones/UAV
• Smart Phones
• Printed Circuit Boards
• Watches ……..
Contents
Case x 1
Adapter x 3 (0.1~0.7Nm)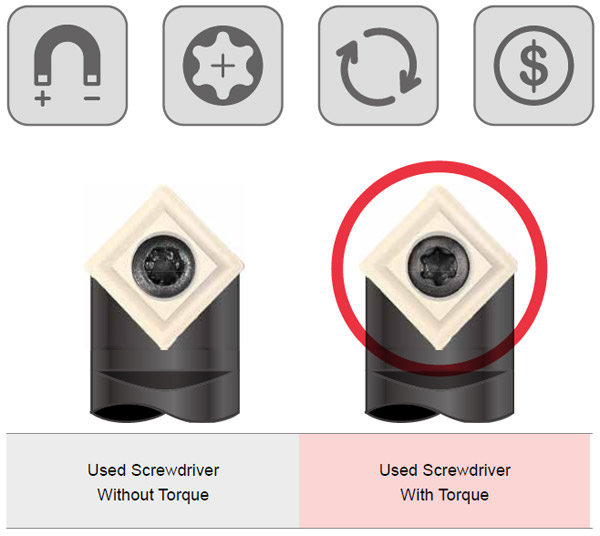 Made in Taiwan
Technical Details
| Parts No. | Nm | Kgfcm | ln-lb |
| --- | --- | --- | --- |
| 0-TPK-MTA-0.1 | 0.1 | 1.0 | 0.9 |
| 0-TPK-MTA-0.2 | 0.2 | 2.0 | 1.8 |
| 0-TPK-MTA-0.3 | 0.3 | 3.1 | 2.7 |
| 0-TPK-MTA-0.4 | 0.4 | 4.1 | 3.5 |
| 0-TPK-MTA-0.5 | 0.5 | 5.1 | 4.4 |
| 0-TPK-MTA-0.6 | 0.6 | 6.1 | 5.3 |
| 0-TPK-MTA-0.7 | 0.7 | 7.1 | 6.2 |
Files Download